Rainbow Dress Up Day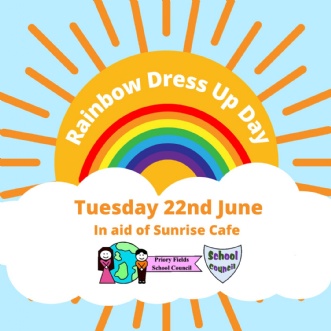 Rainbow Dress Up Day for Sunrise Cafe
Priory Fields School Council are holding a rainbow dress up day which will be a charity event to support the Sunrise Cafe.
The Sunrise Cafe is a 'pay what you can afford' Cafe and is set up to help those in need, everyone is welcome. Children are welcome to wear a colour based on their year group.
EY-pink Y1- orange Y2-yellow Y3-green Y4-blue Y5-purple Y6-red
Suggested donation 50p.
We will also hold an ice lolly sale on the day with lollies costing 50p.