Term 4
Intra Academy Hockey Competition
During Term 3 pupils have been learning the fundamental skills of Hockey. To challenge the pupils learning further, Miss Critcher and Mr Parkin create an Intra Academy Hockey competition for the Year 3's to take part in.
The challenges that were completed-
Task 1-Dribbling Skills-Dribbling through a set pattern of cones, pupils were timed during task 1.
Task 2-Passing Skills-50 passes in small groups, pupils were timed during task 2.
Task 3-Shooting Skills- Pupils were in their game position places, the pupils were given five minutes to score as many goals as they can.
Before scores were collected all of the class had a chance to rehearse each task. The second time around scores were collected.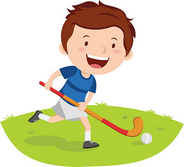 Bikeability
On Tuesday 21st March 2023 Priory Fields offered pupils from Year 5 an exciting Bikeability opportunity. Priory Fields welcomed two fantastic Bikeability instructors into school to teach our cycling superstars about road safety.
What did we achieve and learn during our Bikeability day?
The cyclists learnt how to check their bicycles safely.
All of the cyclists managed to achieve both their level 1 and level 2 Bikeability award.
The cyclist learnt about road safety and how to apply this when cycling out on the roads.
Before leaving for your bike ride remember your head-to-toe safety checks.
All cyclists were able to list the A B C D check points.

A-Before going out for a bike ride check the Air in your tyres.

B-Before going out for a bike ride check the Brakes

C-Before going out for a bike ride check the Chain

D-Before going out for a bike ride check the Direction of the handle bars.
Thank you to all of the cyclists who participated in Bikeability on Tuesday 21st March 2023, we hope you enjoyed your active day cycling.
Thank you Bikeability for offering our school such a fantastic opportunity, we look forward to welcoming Bikeability back into our school next year!
Happy cycling and remember to stay safe!
If you or your child are interested in being involved in additional Bikeability training courses please visit the following website- bikeability.org.uk
Dover School Games Swimming Gala
On Friday 3rd March, 11 children from across our academy had the opportunity to compete in the Dover School Games swimming gala. The superstar swimmers competed against several different schools from the Dover District area and all did extremely well!
Making it to the finals was a massive achievement for the relay team and although they did not make a podium finish, they showed amazing effort and sportsmanship throughout.
The final race of the heats for our academy team was the year 5 and 6, 4 x 25m freestyle relay race. In this race we had two superstars from Priory Fields, one superstar from St Martin's and one superstar from Vale View.
Well done to all of our Year 4 and 5 swimmers for demonstrating all of our school values during the swimming gala.
Thank you to our superstar swimmers for representing Vale View School on Friday 3rd March 2023.
Thank you to all the parents/carers who came to watch and show their support on the day of the swimming gala.
Thank you, Sports Ambassadors, for the help with the Swimming Gala write-up.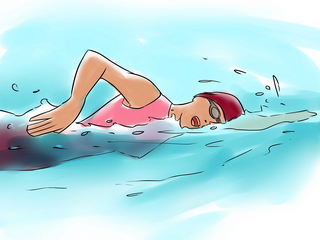 Swimming Gala Training day
On Thursday 2nd March, Whinless Down Academy swimming team had the opportunity of rehearsing their swimming gala races together.
Swimming coaches from SafelySwim helped the swimming team improve their swimming technique and helped to boost both relay teams confidence.
What did the swimming team rehearse?

1.Arm placement in all swimming techniques
2.Starting technique
3.Relay order

The swimming training was a great success and really helped all members of the swimming team.
Thank you SafelySwim for helping us with the Swimming training.
We look forward to our swimming lessons with you soon!