Term 5
Veggie Pie Making
Justice class spent Friday afternoon making Mary McCartney's veggie pies. We followed a recipe, using lentils, spinach, balsamic vinegar, spring onions, soy sauce, garlic and veggie meatballs. They smelt and tasted wonderful. Click below to watch our video!
I didn't think I'd like them but they were so delicious.
Yummy they smell better than perfume!
I didn't think I'd like them but they were AMAZING.
Recycled Art by Steve McPherson
Since 2007 Steve McPherson's primary source materials have been the discarded plastic objects that wash ashore on his local Kent coast of the UK. He has collected objects from beaches of the North Kent Coast of the UK. Wave worn, sun bleached and scarred with unknown histories, these finds are collected and collated by type or colour. He has colour blindness which causes him to mix and mis-match the object colour incorrectly.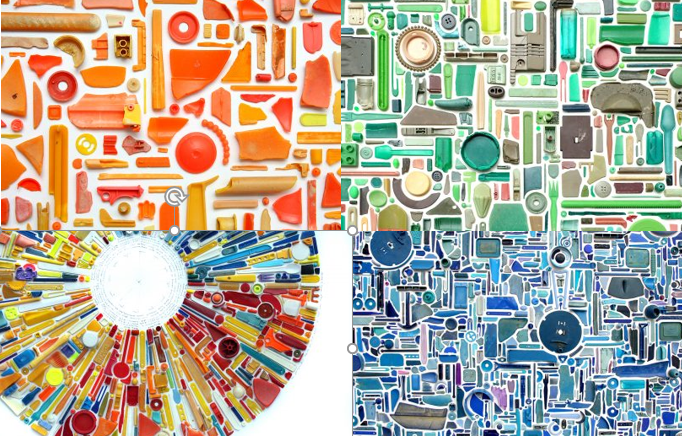 We created art work in his style.
Year 4 WWF
Year 4 took part in a live lesson with the WWF. We learnt about the impact of climate change on the oceans and how animals are being affected and some becoming extinct due to the actions of humans. We came up with some different ideas as to how we could help save these species.
Natural History Museum Trip
On Friday 6th May Equality and Justice class explored the Natural History Museum in London. We travelled on the coach through central London and even recognised some famous landmarks including Big Ben, the Houses of Parliament and the London Eye. We saw the skeleton of a blue whale, models of many different animals in their habitats and we took part in a submarine workshop and travelled to 3000m below sea level – it was really dark and incredibly cold down there! We even spotted Mary Anning's fossils that we learnt about last year.
Wow, this is fantastic. Look at the skeleton hanging from the ceiling.
Look at the size of that Blue whale. I didn't think it was that large.
I loved the workshop as we went down to the dark layer of the sea, where very few fish live.
I loved the growling dinosaur, it's what I thought one was like.
When we returned to school we created a collage of what we enjoyed.
Classifying Animals
In our Science lessons we have investigated how animals are classified. We began with vertebrates and invertebrates and then into mammals, amphibians, reptiles, fish, crustaceans and birds.
A whale is a mammal not a fish because it gives birth to live whale, it has lungs and is warm-blooded.
A tortoise is a reptile because it has scaly skin, lays soft eggs, is cold blooded and has lungs.
A shark is a fish because it lives in water, breathes through gills and lays eggs.
Litter Picking
As part of our Geography topic on 'Our Plastic Planet', we have been litter picking in Tower Hamlets to help keep our local community clean and tidy. We collected over 4 large bags of rubbish, including a lamp and stand, food containers, lighters, glass bottles and plastic single-use bottles. We made sure that it was put into the bin.
Oceans
We have been investigating the question 'What is the impact of plastics on our oceans?' We used the resources from the WWF. We used their images to make inferences from and explain what they made us feel and why these images were significant.
We loved this Native American phrase: 'We don't inherit the world from our ancestors, we borrow it from our grandchildren.'
Plastic Planet is our topic
As geographers and scientists, who protect our spectacular planet, we are going on a journey through our seas and oceans, explaining the impact us humans have on this priceless environment. Along our way, we will discover the impact of this plastic waste and be inspired to create sculptures using discarded plastic and writing persuasively to campaign against it.
We watched some David Attenborough clips about the oceans and were shocked by the facts we learnt:
Only 4% of our oceans are protected.
A truckload of rubbish is dumped into the oceans EVERY MINUTE.
The oceans produce 50% of the oxygen we breathe.
1 billon people around the world rely on fish for food.
90% of seabirds have digested plastics.
By 2050 there will be more plastics in the ocean than fish.
Music
We used stave notation to play a four bar melody on the chime bars. We used the notes C to G and identified minims, crotchets and semi-quavers.