Academy Reading Challenge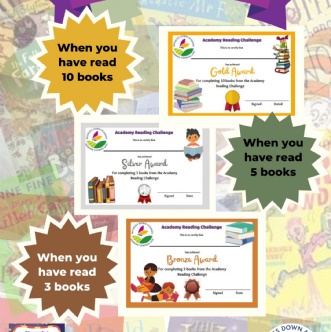 During your recent parent meeting, your child's teacher shared with you the Academy Reading Challenge.
These books are for you to share with your child to celebrate some of the greatest stories or poems ever written, you may even recognise some of them!
It isn't about reading every book on the flyer, but taking time to enjoy these tales together, allowing your child to talk about the characters, events and themes. This will give you an insight into the particular types of texts and authors your child takes pleasure in reading.
Please see below to download all the resources relating to the challenge, and to see a video of some of the children describing their favourite books!