School Council

We have a very active school council here at Priory Fields, with children who are in years 3 to 6 elected to represent their class on the school council and Years R-2 are represented by a year 6 child who speaks on their behalf.

"I promise to do my best, I am proud that I have been elected as a school councillor. I will take my role seriously and am committed to the school and the school council. I will always uphold the school values and encourage others to do so. I will be a positive role model for the school and will wear my jumper with pride."



This year our chosen charity is Dover Riverside Centre. We chose this charity as it links to our school values and the things they do to help our community reflect our school mission statement: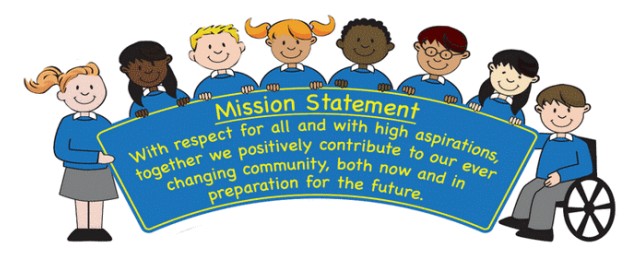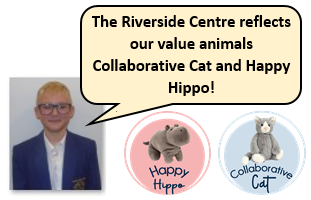 From the Riverside Centre:
The Riverside Dover is an independent local charity which is a community hub for the residents of Dover.
Our dedicated staff and volunteers enable us to offer a range of services in Dover and the surrounding rural areas, we offer social opportunities, activities, lunches and a snack bar Monday to Friday, as well as other essential services for the whole community
Promoting dynamic services, support and activities which help adults share and enjoy a richer community and personal life. 01304 207 268.
We hope you will help support us in our fundraising for this important charity this year, look out for details of our events on this page, the weekly newsletter and School Comms.
​​​​​​
23rd May 2023 - Achievements so far
Our school councillors have been reflecting on their achievements so far this year. Here are some of them:
We put poppies on the school gates, we raised money for Children In Need. We also organised and attended the bingo event. I shared information with my class and took their ideas to share with the School Council.
The events organised by the School Council have included: poppies on the gate, rasing money for Children in Need, helping at the Christmas Fair and organising and attending the Bingo event.
We put poppies out on the gate and raised money for Children In Need. We did a Christmas fair and Bingo event.
This year for School Council have have put poppies on the school gate, raised money for Children In Need, organised a Bingo night and helped at the Christmas fair. We also took suggestions from class to share at meetings.
23rd January 2023 - Eco Update
We are appointing Eco-Responsible Raccoons to ensure busy teachers and classes have turned off electrical items when they aren't in class and will be supporting them when they haven't.
We will be returning unclaimed printing to their classes and are currently thinking of ways to reduce our paper usage. Updates to follow!
9th January 2023 - Attendance Assembly
We held a whole-school assembly where we announced our new attendance reward. To try to improve attendance we are awarding a Thursday afternoon trampoline session for the most improved class each week.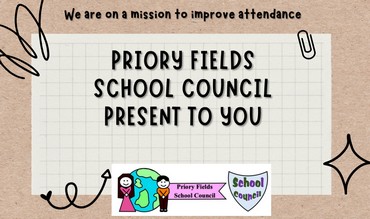 To see our complete presentation, please scroll down to the attachments at the bottom of this page!
5th January 2023 - Our First Meeting of 2023!
We discussed a new attendance award for the most improved class, a trampolining treat! Our Head Advocates will also be writing to The Riverside Centre to tell them that they are our chosen charity. We looked at the Bingo flyer and some members were chosen to distribute the posters tomorrow. The Academy Eco Group wrote us an email asking us to inform classes about a poster competition, we will also be sharing the exciting news about a poetry competition with classes!
See our minutes below for details!
IMPORTANT ANNOUNCEMENT:
Our charity bingo night is approaching, here is the flyer: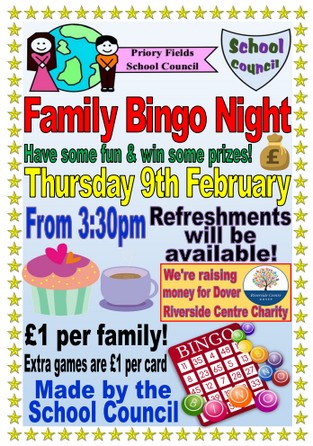 8th November 2022 - Spotty Day - SPECIAL ANNOUNCEMENT!!!
Our spotty day for Children in Need was a great success. We raised over £300 for this amazing charity! Thank you everyone who donated!
18th November 2022 - Car Park
I helped Mr Godfrey make a flyer for the car park as we are trying to get as many teachers and TAs to park in the car park to keep to road clear and safer.

3rd November 2022 - Children in Need poster making
We got helped Mr Godfrey make a poster for Children in Need.
You can view our poster below!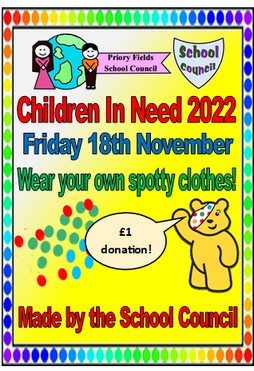 1st November 2022 - Second Meeting of the Year
Today, we held our second meeting of the year. We looked at the Poppy Project flyer, and were happy with it, so some members will be helping Mrs Wheeler to display it around the school. Charity suggestions were put to a vote and Riverside, which supports older people in our community, was chosen as a charity of the year. We also decided that we will hold a Bingo night in January, so watch this space for details!
From our Equality representative:
I have laminated the posters for Poppy Day and helped put them up around the school!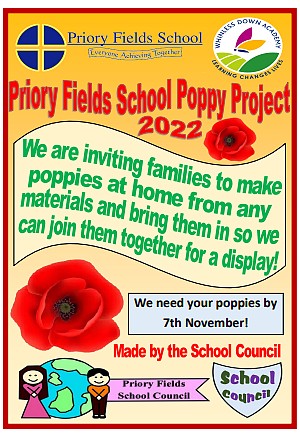 27th September 2022 - First Meeting of the Year
On 27th September, following our recent whole-school election, we held our first meeting. We got to know each other a little bit and discussed some ideas for reducing single-use plastics and possible charities to support this year. Two members were chosen to help Mr Godfrey make a flyer for our Poppy Project, which will be shared at the next meeting.
16th September 2022 - Election
Following our recent election, we're looking forward to doing our bit to improve the school and make our mark on Priory Fields!

We'll each be writing a little bit about ourselves soon!
| | |
| --- | --- |
| | Hello, I'm Head Advocate. I wanted to be part fo the school council so that I can help with different events, I'm looking forward to the bingo event this year! |
| | Hi, I am Head Advocate for Priory Fields School. This year I am aiming to demonstrate the school values. I will help people mentally and physically. I hope I will do my role correctly. |
| | Hello, I'm the school councillor for Valour class. I wanted to be a school councillor because I wanted to raise money for people in need and help the school and the planet! |
| | Hi, I'm school councillor for Caring class. I wanted to be school councillor so that I can teach the early years children new things, like sharing, saving electricity and caring about others. This year I am looking forward to raising money for charities and working with the early years children. |
| | Hello I'm school councillor for Tolerance. I wanted to be a school councillor because I wanted to help others in the school and in my class with their work and do other things. This year I'm looking forward to helping in assemblies and with charities. |
| | Hi, I am school councillor for Honesty. I wanted to be a school councillor because I want to help out with all of the special events that are coming up like bingo night! I am excited to be helping to raise money for charities. |
| | Hello, I am school councillor for Integrity class. I wanted to be a school councillor because I want to be helpful for everyone. I'm looking forward to all the fun stuff we will do. |
| | Hi, I'm school councillor for Democracy class. I wanted to be a school councillor because I wanted to give Priory Fields more ideas. This year I'm looking forward to seeing how much we raise for charity. |
| | Hi, I'm school councillor for Sharing class. I wanted to be a school councillor to help others in the school to do the best they can achieve. This year I'm looking forward to helping to raise money for charity and to help my school council class. |
| | Hi, I am school councillor for Courtesy class. I wanted to be a school councillor because I wanted to be more helpful in school. |
| | Hi, I'm the school councillor for Harmony class, year 1. I wanted to be a school councillor as I wanted to help out in my last year of primary school. This year I'm looking forward to helping out with fundraising events. |
| | Hello, I'm the school councillor for Loyalty. I wanted to be a school councillor because I was looking forward to raising money for charity. |
| | Hello, I'm school councillor for Equality class. I wanted to be a school councillor as I wanted to raise money. |
| | Hello, I am school councillor for Endeavour class. I wanted to be school councillor as I want to make the school a better place for people to learn and make better choices, like supporting charities. This year I'm looking forward to getting my SATS done! |
| | I wanted to be school councillor because I will respect everyone's thoughts and listen to their ideas and help make everyone safe. I'm really excited to be supporting charities. I would like to support air ambulance. I'm school councillor for Respect class. |