School Council

We have a very active school council here at Priory Fields, with children who are in years 3 to 6 elected to represent their class on the school council and Years R-2 are represented by a year 6 child who speaks on their behalf.
Our pledge
"I promise to do my best, I am proud that I have been elected as a school councillor. I will take my role seriously and am committed to the school and the school council. I will always uphold the school values and encourage others to do so. I will be a positive role model for the school and will wear my jumper with pride."
Our chosen charities
At the start of the year, we speak to our classes to find out what charities they would like to support. This year, we have decided to support Age UK in Dover and Kent Wildlife Trust.
We have already held our first charity event, read about it here.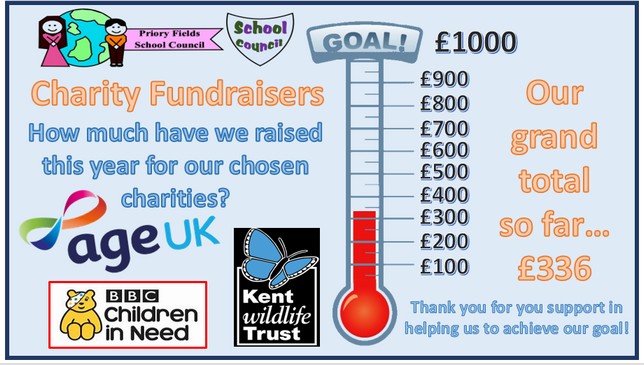 Recent activities
Here is a lovely letter from the Riverside Centre in Dover thanking us for our donation and our visits (click to view full size):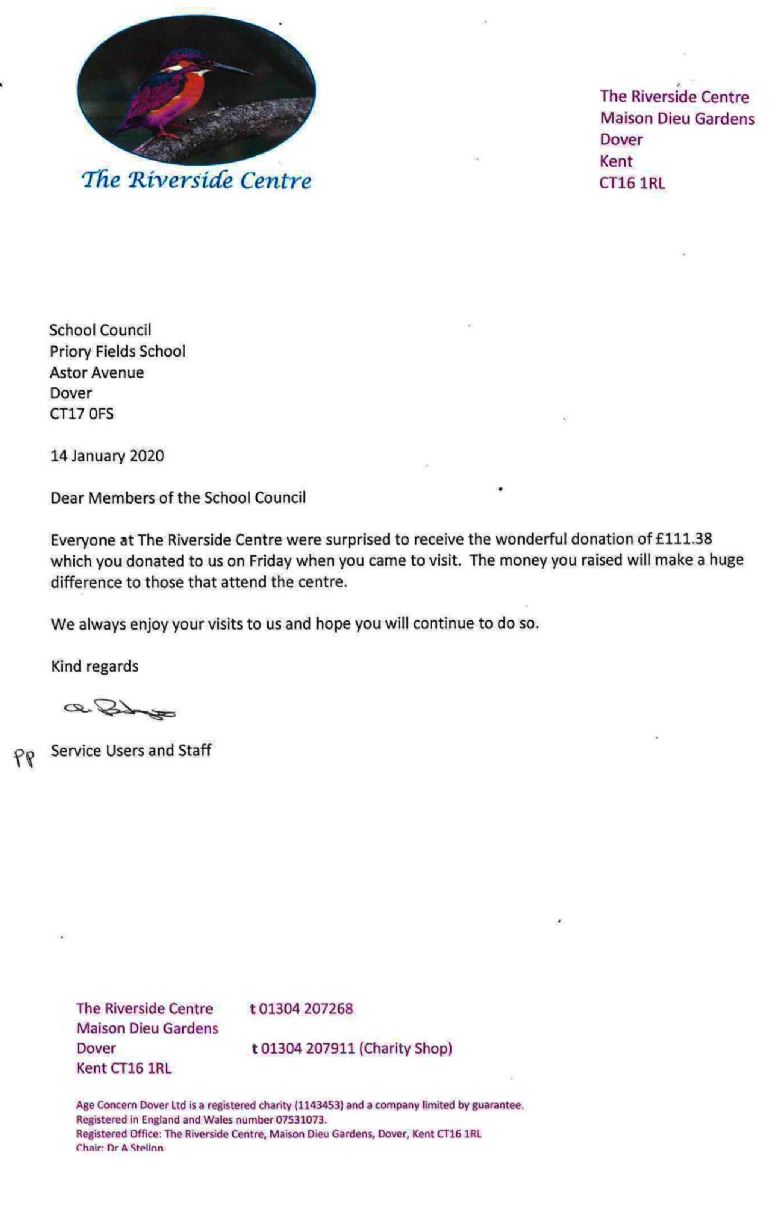 Here are some reports from the children about their recent activities:
Our Latest Meeting - 30th January 2020
We are excited to announce that we have decided many new things in our last meeting. Attendance reward this term will be trampolining and term 4's will be art/board games. We also now have a school council email set up which will open up many new opportunities.

Next meeting is set for 12th February.
Children in Need / Age UK
Yesterday, we went to the bank and gave money for children in need and Age UK. We raised £175 for Children in Need and £145 for Age UK!
Helping in Year R
When I got there the children kept saying my name. I got lots of hugs and they told me about what they had been doing in class. We watched a video and played with the children.
Meet the School Council
Hi, I like to go out with my friends and I love spending time with my mum. I enjoy seeing my dad and going to the park together. I love my maths lessons and answering hard questions. I represent year 1 Harmony Class, and have given them lots of information after our school council meetings.

Hello, I have one sister and my hobbies are racing cars (bangers). I love spending time with my family, going to different car races. I like maths and science lessons best in school. I represent Loyalty class and my job in school council is eco. I have worked with Mrs Sanderson-Goodey to encourage the school to recycle pens and crisp packets.

Hi, I'm Head Boy and I don't represent a particular class, I represent the Advocates in the school council meetings. I really enjoy painting things at home, particularly models, and small miniatures so I can display them! I also like playing board games like scrabble and monopoly.
My aims: Support more charities, to help others, to help children read more, and get involved in more competitions.

Hi, I'm a school councillor for Integrity class. I really enjoy maths at school! I also like playing the drums in my music lesson. My favourite cartoon is Pokémon, which I watch quiet often. This year with the school council, I would like to make the school more eco-friendly, be a role model for others, encourage others to be polite to each other, and to help children be more independent.

Hi, I enjoy playing games with my friends. I also enjoy creating pictures and putting them up in my bedroom. In school, I enjoy maths lessons and answering lots of different questions. In English lessons we have written poems, which I have really enjoyed. I represent Tolerance class in school council and I am looking forward to this extra responsibility.

Hi, I am in Year 6 but I am the school councillor for Year R (Caring class). The things I dislike are football, tennis and mince pies but I like swimming, maths, science and PE! I am looking forward to making the school and the environment a better class, particularly the eco group.

Hi, I am in Valour class in Year 6, but I have been chosen to represent Liberty class. I really like playing football both inside and outside of school because it is something that everyone can get involved in! I really don't like pies!!! I am really looking forward to working in the school council, making the school a happy place for everyone.

Hello, I am in Year 6 and I represent Honesty (which is a Year 2 class). I am looking forward to being part of the attendance group in school council. I dislike Brussels sprouts, and my hobby is playing with my little cousin! I am looking forward to improve the school environment, and putting rubber on the monkey bars so that all children can use the play equipment safely.

Hi, I am Head Girl of Priory Fields. I enjoy playing outside with my friends, as well as making slime. My favourite subjects in school are maths and science, because I enjoy figuring out answers and completing different experiments. Although I do not represent one class at school council, I take part in and help to organise events. I am also part of our Academy School Council and discuss issues effecting the Whinless Down Academy.

Hello, I am the school councillor for Courtesy, I am really interested in bringing more music to the School council as I play my ukulele every Thursday. I really enjoy singing and dancing at home. I am very passionate about making homework more creative so everyone enjoys doing it. My aims: Getting children to try new meals at school, helping children understand what the school council does and making the school more eco-friendly.

Hello, I like to play in the garden with my sister. At the weekends, I go to the shops, spending my money on sweets. In school, I like learning about history, particularly our year 6 work on World War 1. I represent year 6 Endeavour Class, and enjoying listening to their ideas and taking them to our meetings.

Hello, my favourite hobby is playing computer games with my friends. At playtime, I like to play football. My favourite subjects in school are maths because I like solving the problems. I represent Respect class at school council and have had to ask my class for their ideas and opinions about different school council events.

Hi, I am the School Councillor for Equality, at home I really enjoy drawing (I do it quite often). I draw a lot if cartoon characters. I really enjoy playing board games like Monopoly.
My aims: I want to help children with their learning, I want to raise more money for charities, I want to be available for others to talk to.