School Council

We have a very active school council here at Priory Fields, with children who are in years 3 to 6 elected to represent their class on the school council and Years R-2 are represented by a year 6 child who speaks on their behalf.
Our pledge
"I promise to do my best, I am proud that I have been elected as a school councillor. I will take my role seriously and am committed to the school and the school council. I will always uphold the school values and encourage others to do so. I will be a positive role model for the school and will wear my jumper with pride."
Say 'Thank You' to the NHS Competition Update
The school council have been working hard to promote the NHS competition 'Say Thank You to the NHS'. As part of this competition, children were given the task to design and create something which could be used to say thank you to the NHS for all of their hard work. Take a look at some of our designs!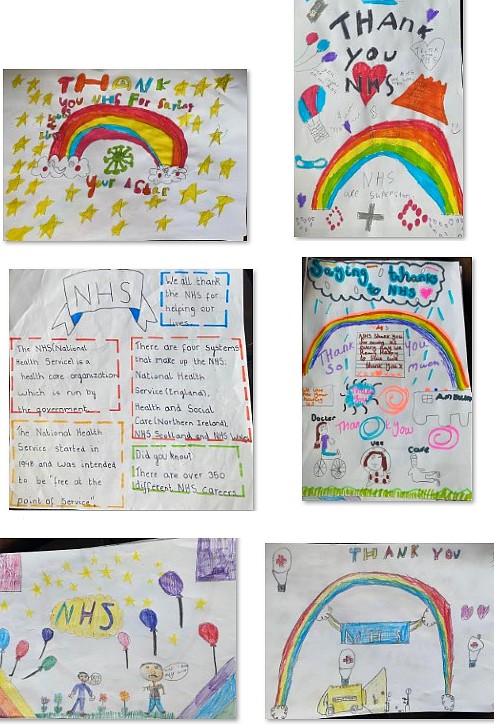 Smile Train Charity Fundraiser - April 2022
The School Council is holding a fundraiser for the Smile Train cleft palate charity.
Week beginning Monday 25th April, children will be able to choose a fun sporting activity for their PE lesson. They will also be able to wear their own sporty clothes on their PE day and will have lemonade on the field after their PE session.
We're asking for a £1 donation, but anything you can give will be fine.
See our presentation at the end of this page for more details about the charity.
We made this flyer to tell you all about our fundraiser: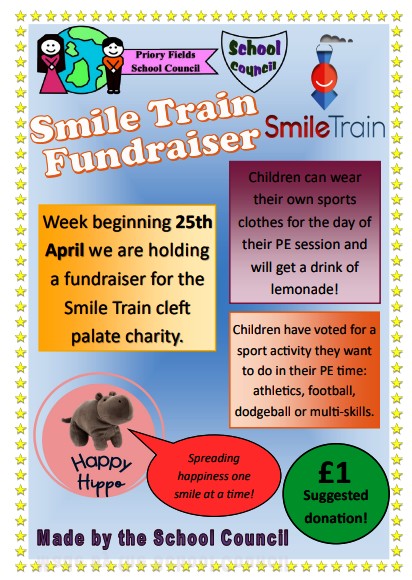 NHS Competition
The School Council are promoting this competition where we can say thank you to the NHS. We will be exploring all the jobs there are in the NHS- did you know they are our country's largest employer? They employ over 1.7 million people.
We held an assembly to share this exciting and worthwhile competition with the whole school. Many of us may go into the NHS when we are old enough- like Aspirational Ant.
Please scroll down to the bottom of this page to view our Powerpoint!
Here is the poster we made and have put around the school: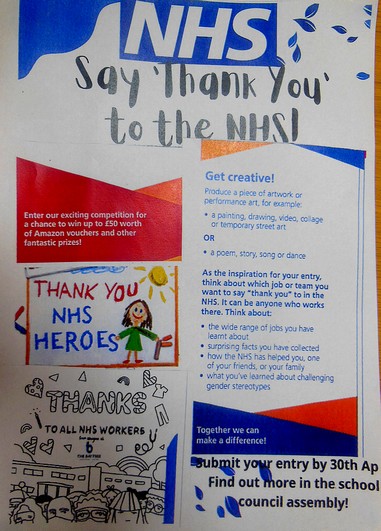 Here is the video we shared during our assembly:
Visit this link for more information . . .
or scan this QR Code: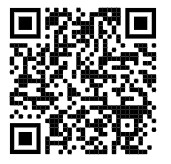 Sunrise Café Cheque Presentation
We presented Sunrise Café with a cheque. We raised an incredible £200 from our Rainbow Day! This was an event planned by the school council. We are looking forward to working with the Sunrise café as they use some of our values
Aspiration, collaboration.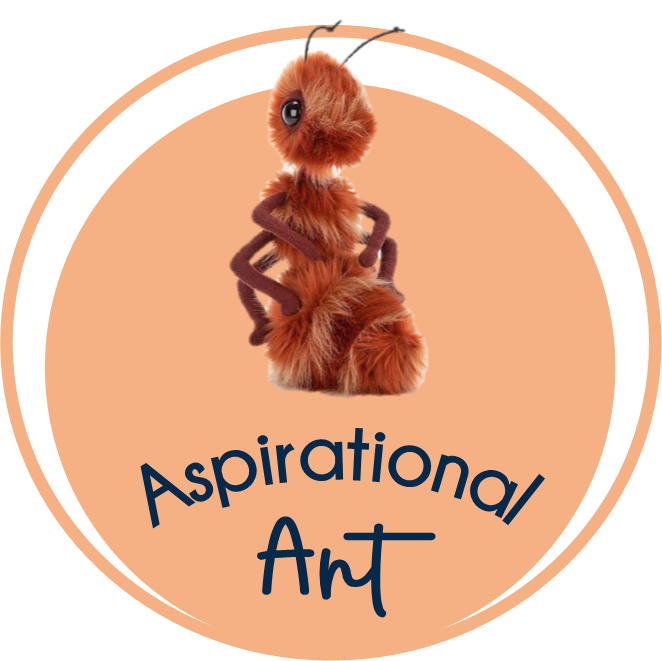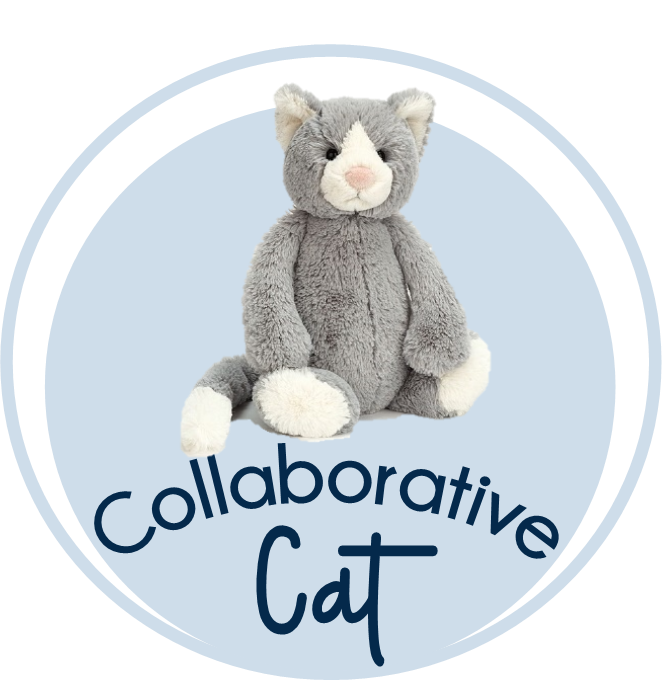 From our Head Girl:
Some of our hardworking school council members were nominated to visit the beautiful Sunrise cafe. They took our school minibus to the the cafe and soon after gave them a £200 cheque that we raised as a school.
Thank you from the School Council
Here is a letter to parents: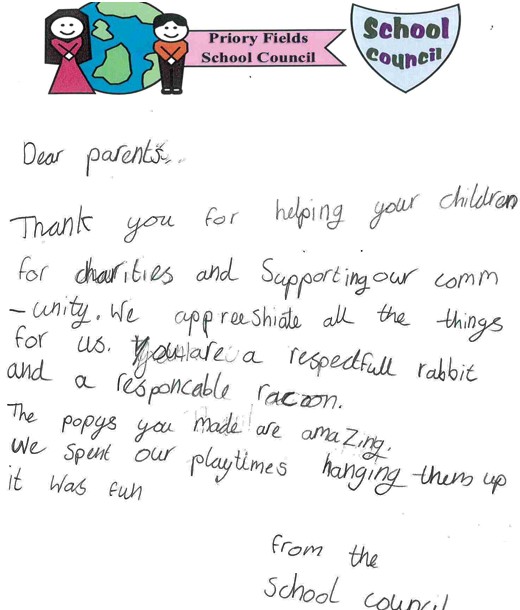 Poppy Project
The poppies you made are amazing!

Today we hung up the poppies on the front fence in a wave in our playtimes, it was fun. Some were made out of bottles, tissues or knitted. Some were big and others were small.
Our complete flyer: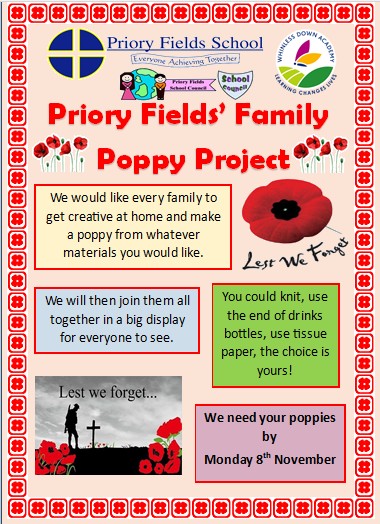 We have decided to hold a school council poppy event. We want families to make poppies to display along our school fence to show our value of respect for soldiers past present and future.
It is important that we mark remembrance and never forget the sacrifice of so many.
Here we are working on our flyer!
First Meeting of this Year's School Council 2021-22
We held our first meeting and introduced each other. We went round the table and said our name and then said what class we represent. We decided to keep supporting Sunrise Cafe and ask the classes to help us choose some other charities.
Our Information Board
Our board in the top corridor is now up, so you can keep up-to-date with our activities!
Meet the School Council
| | |
| --- | --- |
| | The reason why I wanted to be a school councillor is because I wanted to help and get to be a part of a wonderful opportunity for my last year of primary school. I will also show all the school values! |
| | Hi, I like art and I like to sing! I want to help others and make them a better person. I can listen to your ideas to make the school a better place! |
| | I'm excited to be a school councillor because I want to make the school better. I want to let people be heard and let them get their opinion across. I also want people to feel happy and safe in our community and to let everyone show the values so we can all have the best year! |
| | Hello, I wanted to be a school councillor because I want to make the school a better place. I want to be an Adventurous Aardvark and explore! |
| | Hi, I want to people to work joyfully and kindly with each other and I will demonstrate how to do it. Open-minded Octopus: I will try new things and explore them with the Year Rs! I really want to help them with everything and let them know new things that are happening in the school! |
| | Hi, now I am school council I am proud to do any jobs and I will complete them any time to help the community and make people happy. When a new child enters the school I can help to make them welcome and feel safe. We are all Happy Hippos and Respectful Rabbits! |
| | I wanted to be school council because I would love to help around the school. I'll show all of the values. If children don't use the values I will tell them or tell their teacher. I'm hoping it will help me overcome my stage fright and hopefully I'll be an amazing role model. |
| | I wanted to be a school councillor for a long time. I would like to help everyone to be Happy Hippos and Open minded Octopusses! I would love to hear everyone's ideas! |
| | I wanted to be a school councillor because I am going to show respect and be collaborative. Respect: I will show respect if someone needs help. Collaborative: I will be collaborative in games like football, basketball and other sports games. If someone is sad or not playing I will let them join my game! I will show collaborative ness in school and outside the school! |