School Council

We have a very active school council here at Priory Fields, with children who are in years 3 to 6 elected to represent their class on the school council and Years R-2 are represented by a year 6 child who speaks on their behalf.
Our pledge
"I promise to do my best, I am proud that I have been elected as a school councillor. I will take my role seriously and am committed to the school and the school council. I will always uphold the school values and encourage others to do so. I will be a positive role model for the school and will wear my jumper with pride."
Our Activity Blog
18th November 2022 - Spotty Day - SPECIAL ANNOUNCEMENT!!!
Our spotty day for Children in Need was a great success. We raised over £300 for this amazing charity! Thank you everyone who donated!
18th November 2022 - Car Park
I helped Mr Godfrey make a flyer for the car park as we are trying to get as many teachers and TAs to park in the car park to keep to road clear and safer.

3rd November 2022 - Children in Need poster making
We got helped Mr Godfrey make a poster for Children in Need.
You can view our poster below!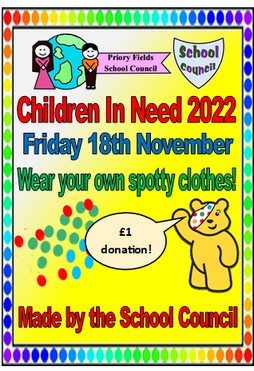 1st November 2022 - Second Meeting of the Year
Today, we held our second meeting of the year. We looked at the Poppy Project flyer, and were happy with it, so some members will be helping Mrs Wheeler to display it around the school. Charity suggestions were put to a vote and Riverside, which supports older people in our community, was chosen as a charity of the year. We also decided that we will hold a Bingo night in January, so watch this space for details!
From our Equality representative:
I have laminated the posters for Poppy Day and helped put them up around the school!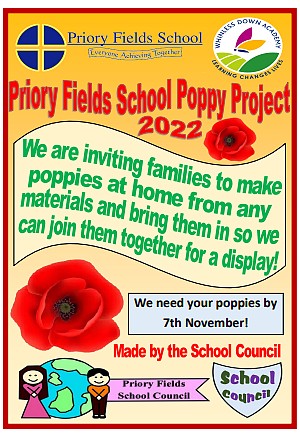 27th September 2022 - First Meeting of the Year
On 27th September, following our recent whole-school election, we held our first meeting. We got to know each other a little bit and discussed some ideas for reducing single-use plastics and possible charities to support this year. Two members were chosen to help Mr Godfrey make a flyer for our Poppy Project, which will be shared at the next meeting.
16th September 2022 - Election
Following our recent election, we're looking forward to doing our bit to improve the school and make our mark on Priory Fields!
Meet the School Council
We'll each be writing a little bit about us soon!